Lugulake Aluminum Portable 4.0 Speaker with Stand Dock, HIFI, 2x 3Watts, Enhanced Bass, 10 Hours Playtime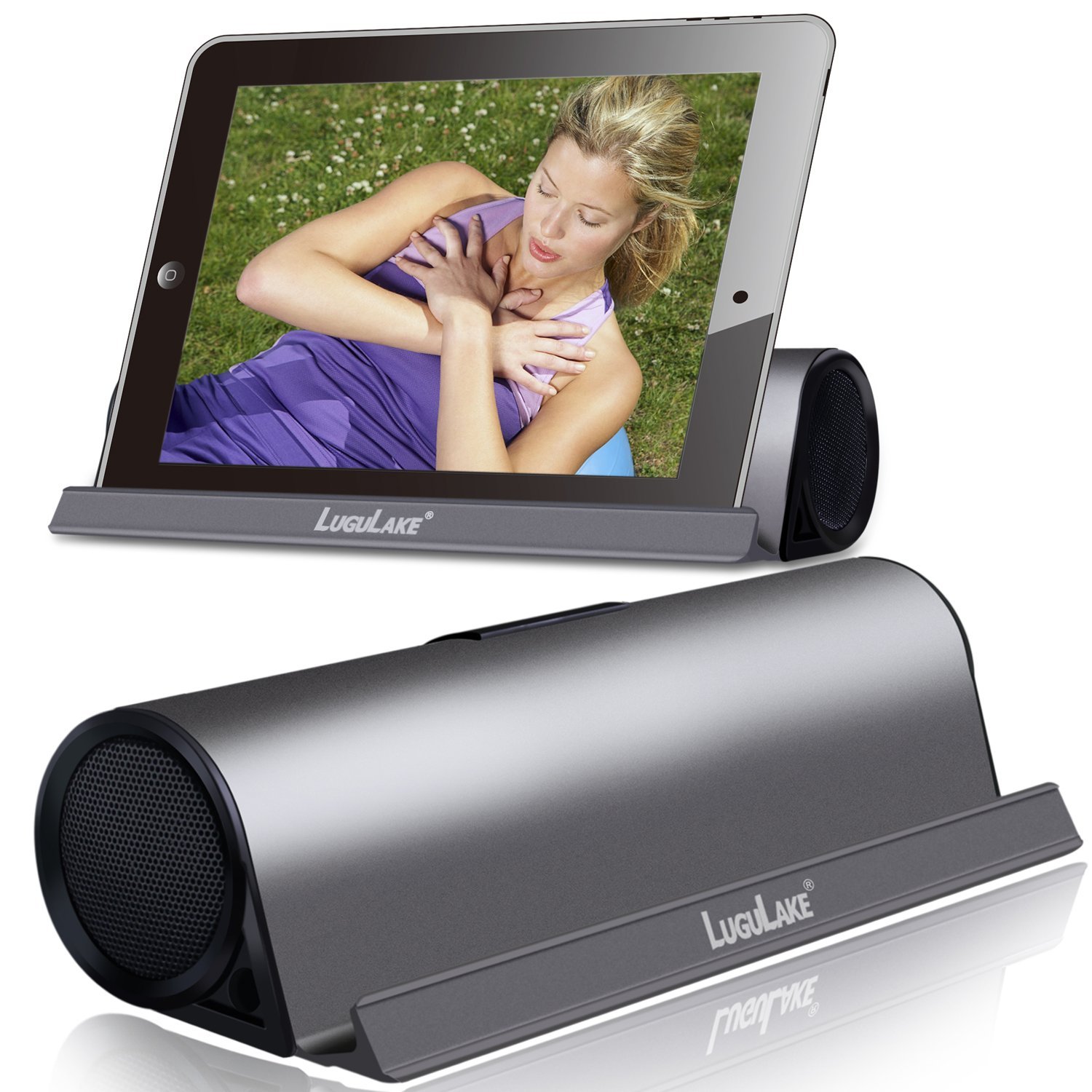 New Bluetooth 4.0 Technology allows you to connect wirelessly to the LuguLake from up to 33 feet away. 3.5mm audio port for non-Bluetooth devices. Seamlessly stream and share music, movies and games anywhere. Easy to pair - No code/pin needed.
Premium Sound with Bass Enhance Technology. Two powerful 3 watts drivers deliver an impressive, high definition sound. Enjoy music and movie at any moment.
Added functionality - a built-in cradle, the solid and durable cradle firmly holds your iPad and iPhone at a comfortable viewing angle. even if the device is kept inside a bulky protective case.
Built-in-Lithium-ion rechargeable battery provides up to 10 hours of playtime, which makes it an excellent solution for those who are constantly on the move. When it's out of power, simply connect the included charging cable to your computer's USB port to recharge.
Package contents: LuguLake Portable Bluetooth Speaker, micro USB cable, 3.5mm audio cable, instruction manual and friendly customer service.
Why should you choose LuguLake Bluetooth Speaker series?
LuguLake is the manufacturer focus on Bluetooth Speaker, devoting into deliver enjoyable sound quality, utility sleek design.
Update The Power of Bluetooth
The key new feature of Bluetooth 4.0 is its low-energy technology that is optimized for long battery life and high transfer speed. Works with all Bluetooth-enabled devices; equipped with a 3.5mm audio jack for non-Bluetooth devices.
Sleek, portable design
The compact and portable design of the cradle makes it easy to take with you when you are on-the-go. It's easy to move between work and home or take with you when traveling.
Amazing sound from this small size
Small But Powerful, This portable bluetooth speaker is designed to deliver high-quality sound. This stunning LuguLake bluetooth stand features two 3-watt stereo speakers. The output power of its high fidelity audio system is equivalent to that of two 3-watt single Bluetooth speakers. The advanced equalization technique allows the stereo audio system to deliver high fidelity sound without any distortion at all.
Easy operation, elegant design, Aluminium Stand
Stylish and elegant, solid and durable. The aluminum is fine, fingerprint resistant and easy to clean.
Plays where you play
Its ultra portability allows you to enjoy music everywhere anytime. You can enjoy music or videos while cooking, housing, picnic, tent entertainment, sporting, or for party, backyard entertainment ect. Wherever you are, whenever you want.
Packet Contents: - 1 X LuguLake Bluetooth Speaker Stand - 1 X USB Power Cable - 1 X 3.5mm Audio Cable - 1 X Specification