LuguLake Wireless Stereo In-Car Bluetooth Headset/Headphone with Charging Dock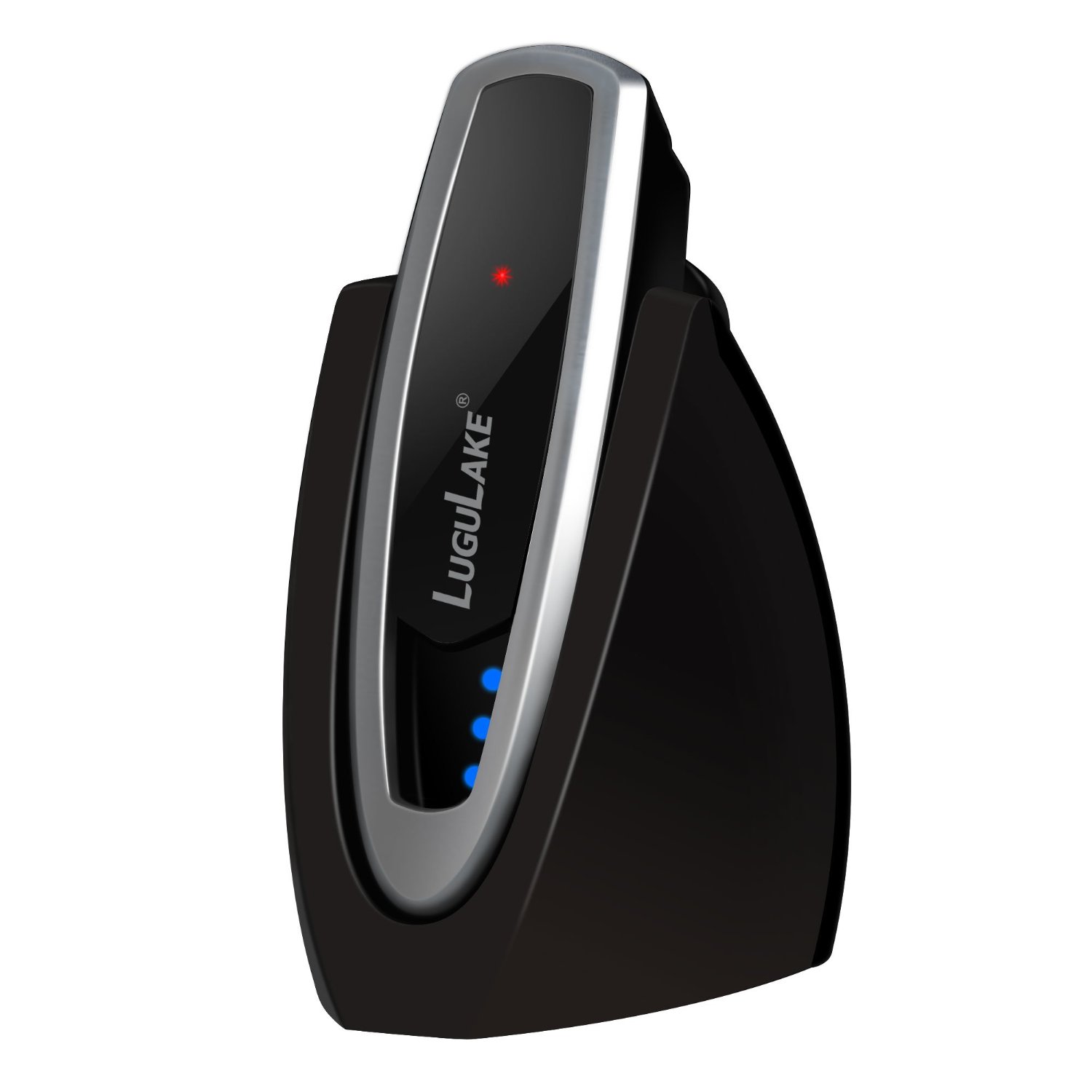 Bluetooth 4.0 headset easy your call, just pick up to automatically connect and answer a call. Put in dock to trigger sleep mode.

Bluetooth Headset built in latest CSR's own echo cancellation chip and DSP software technology for enhancing the audio quality of wireless products. Improve the call quality, make your calls more clear.

The dock is specially designed to mount to the air vent so that you can charge the Bluetooth headset when you are driving. The magnetic charging dock automatically triggers Sleep/Wake modes to make the most of the battery's 5 hour continuous play time.

Bluetooth profiles:A2DP, AVRCP, HFP, HSP connection. Pair it with two Bluetooth-enabled devices at the same time. The Bluetooth headset power can be shown on iPhone.

Package contents: bluetooth 4.0 headset; charging dock, ear hooks, USB cable; vehicle air vent mounting clip; User manual. Compatible with all phones that are bluetooth enabled: Apple, BlackBerry By RIM, Cal-Comp, Danger, HP, HP Palm, HTC, Huawei, Kyocera, LG, Motorola, Nokia, Pantech, PCD, Samsung, Sanyo, Sharp, Sony Ericsson, UTStarcom, ZTE.
Product Description
Take To Speak, Put Down To Charging. LuguLake Bluetooth 4.0 headset is neat and great looking. It looks expensive and not bulky. It's simple to pair with your device, easy to put in your ear, comfortable and works great. Stylish and durable, love the magnetic docking station and the air vent clip, makes it so easy to charge your headset. when your two-handed are busy in driving while taking a call. Even if the headset is charging in its dock, answer in one swift motion simply by picking it up and putting it in your ear. The headset automatically wakes, connects, and answers, letting you put your hand back on the wheel and safely enjoy your conversation. Volume +/- button works responsively. Long Lasting Life Bluetooth Headset built in latest CSR chip. Transmission of Bluetooth 4.0 is very stable, fully compatible with all Bluetooth version of mobile phone, up to 200 hours standby time, up to 5 hours talk time, sufficient to meet the needs of a whole day work, let the music and communications never stopped. Multipoint Pairing You can pair up two devices simultaneously and manage incoming calls from both phones with one press of the button! Hold down the main button for approximately 5 seconds until the red and blue lights flashing to enter it into pair mode and selected the name on your first device. Then repeat the same short steps with your second device and now you can manage calls from both devices! Bluetooth Technology The signal is generally pretty good, especially when indoors. you can also be a pretty good distance away from youstreaming device without any problems with the signal (around 10 metres. or so)